Politics
'I Fired Warning Shots' – Hawa Koomson Admits Using Weapon At Registration Center
Minister for Special Development Initiatives, Mavis Hawa Koomson, has admitted firing gunshots at a voter registration centre in the Central Region.
"It was my gun. I fired my own warning shot," she told Adom News, in an interview monitored by theghanareport.com.
The minister who is Member of Parliament (MP) for Awutu Senya East, claimed her opponent, Philis Naa Koryoo, had bused some people into the constituency to register at the Steps to Christ registration post in Kasoa.
a.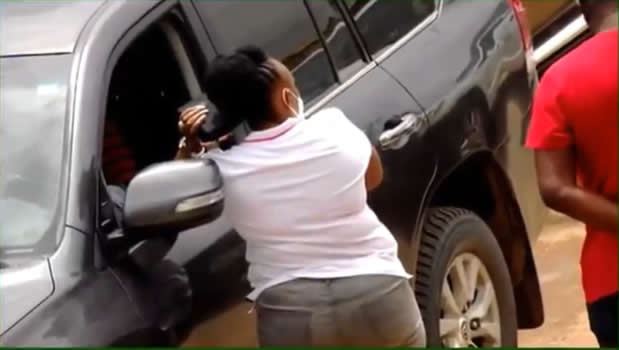 The minister of state at the presidency, Hawa Koomson, said she was accompanied to the center by her men, who were unarmed. Her police escort was not with her at the time of the incident, around 9 am Monday.
She said she witnessed intimidating scenes at the polling station, with some motorbikes making furious turns around the center. She believes it was men recruited by her opponent to cause fear.
"I realized that my peoples' lives were in danger. I wanted to scare them," the 54-year-old former teacher explained why she fired her gun, which she said was licensed.
According to eyewitnesses account, at least 15 men stormed the venue and tried to sack some applicants, suspected to have come from outside the region.
Hawa Koomson has said she will 'not allow non-residents to come into the area to choose the next MP'.
Officials from the Electoral Commission (EC) had to flee during a confusion at the centre which led to violence.
This resulted in a brawl leading to gunshots and the burning of some motorbikes at the venue.
Four people have so far been arrested.
According to registration rules, one has to fill a form to challenge a person suspected of being unqualified to vote in a constituency.
Hawa Koomson is a two-term MP, winning the seat in the 2012 parliamentary elections and later in 2016.
In that election, she won 58.10% of the valid votes to beat her closest challenger, Adams Nuhu Timile, who obtained 40.86%.
As the 2020 parliamentary beckons, Mavis Hawa Koomson faces another NDC challenger, a private legal practitioner, Philis Naa Koryoo.
Source: theghanareport.com