General
Our Data Is Safe, No Money Stolen In Sunday Fire – GRA
Data is safe and no loss of cash or cheques have been recorded after a fire outbreak at VAT House, a substation of the Ghana Revenue Authority at Kwame Nkrumah Circle in Accra, caused extensive structural damage to its ICT centre, official sources have said.
A formal assessment of the extent of damage is set to begin after a fire outbreak at VAT House, the Accra Kwame Nkrumah Circle sub station of the Ghana Revenue Authority (GRA), was brought under control on Sunday, 1 December.
Officials have assured the media that GRA's existing systems backup does not only ensure the recovery of files but also business continuity. "In essence, our core data is safe, as all GRA files are automatically backed up at an offsite data center" said Mr. Ammishaddai Owusu-Amoah, Acting Commissioner for Domestic Tax Revenue Division.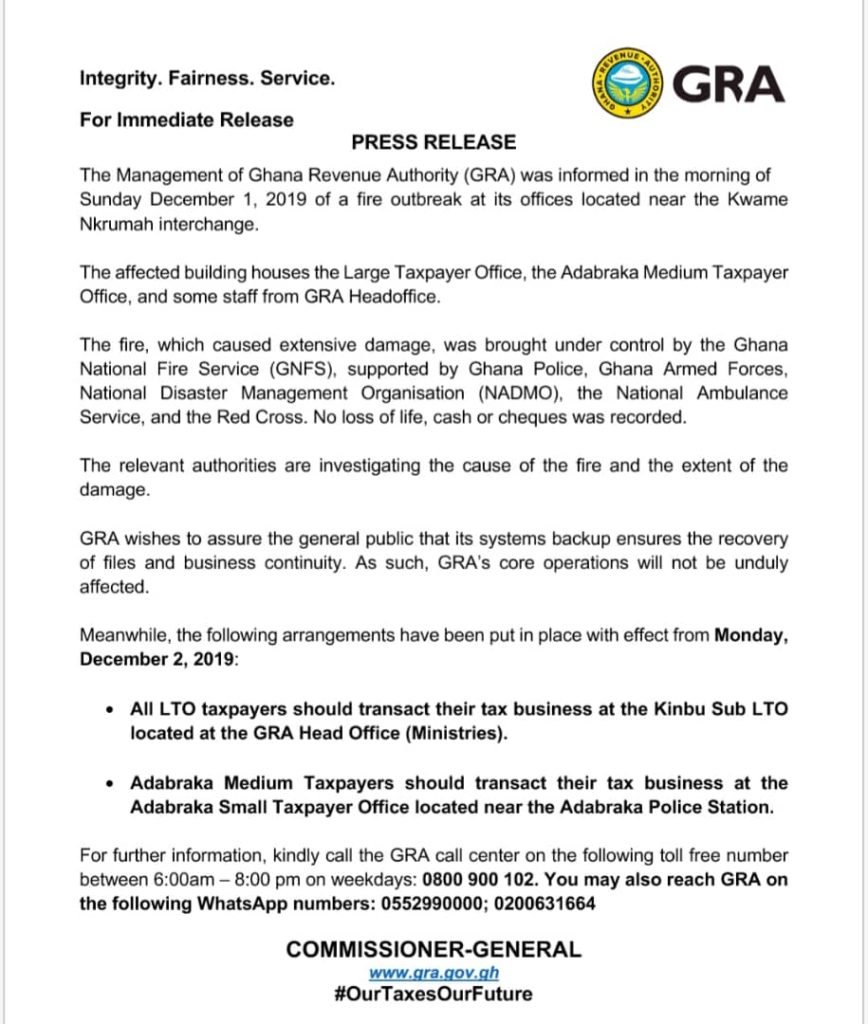 Aside from visible structural damage to the GRA Circle branch building, official report from the Ghana National Fire Service on Sunday afternoon indicated that no casualty had been recorded. The fire is estimated to have started at around 4 am on Sunday.
In the meantime, GRA commissioner and Board Chair, Mr. Ammishaddai Owusu-Amoah, and Professor Stephen Adei, respectively, have debunked, as "fake news", reports of the loss of cash and/or cheques in the fire, following what they noted was a "mischievous attempt to undermine confidence in an already complex process of dealing with the situation".
The Ghana National Fire Service has begun investigations to determine the real cause of the GRA Circle branch fire, and GRA officials have pleaded with the public and the media to verify information related to the incident from official sources.