Education
Sexual Harassment Claims Against Me "Untrue" – UG VC
The Vice Chancellor of the University of Ghana Prof Ebenezer Oduro-Owusu, has dismissed sexual harassment allegations against him by the CEO of Africa Integras Andrea Pizziconi.
According to him, the "claims are untrue and can never be true".
"The claims are not true and can never be rue. If you know me so well you wouldn't be asking me that question. It can' be true. I met her because of the project and I never meet her alone. I have never had any personal engagement with her. All our meetings with this woman has been extremely business one".
"I have been extremely careful not to have a one on one with her, I have always insisted we meet in teams and she rejected that but I told her my style is that we meet in teams. The last time I met her, she insisted we meet alone in my office but I went ahead to invite my Pro-VC and one other to the office and she was surprised to meet them in my office," he told Francis Abban.
The Africa Integras CEO wrote on twitter that her company Africa Integras led a US$64mn infrastructure investment at UG which was defaulted upon by the current VC.
"I have remained mostly quiet despite the battery of attacks by Professor Ebenezer Oduro Owusu on my dignity. I was advised not to make waves and definitely not to raise the #metoo flag if I wanted to put the project back on track, which I do. Now I feel compelled to speak up and draw a direct line between this sex scandal and our derailed project," she wrote.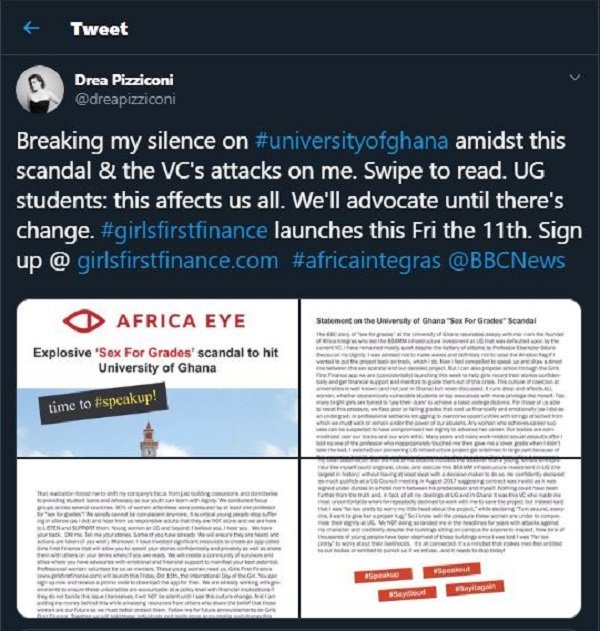 She added at a UG Council meeting in August 2017, the VC suggested that the contract which was signed between herself and the past VC was invalid "as it was signed under duress in a hotel room."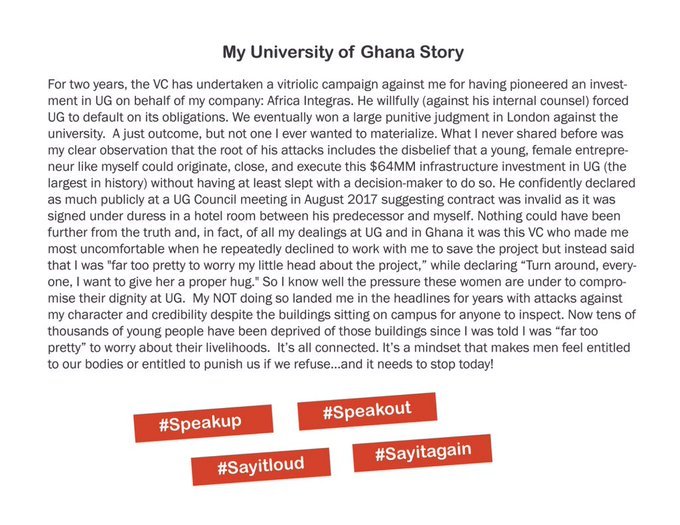 The development comes in the wake of the BBC documentary which accuses two lecturers of the university of sexual harassment. The university has suspended the lecturers over the sex for grades film.
Source: Ghana/Starrfm